Get Involved in The Wish Centre's Halloween Hunt!
Back to news
This October half-term we are excited to present our Halloween Hunt fundraiser! A great activity to keep the kids entertained while exploring Clitheroe... read on to learn a little bit more about what the Wish Centre does and how we help young people across Lancashire.
How to get involved - Pick up trail sheets from Raffia or La Tete for just £2, then search the shop windows in the lovely town-centre to find our spooky signs! Completed forms can be returned and entered into a prize draw where 3 winners will be given £25 vouchers for a shop of their choice. Running from 22nd to 31st October - Have fun!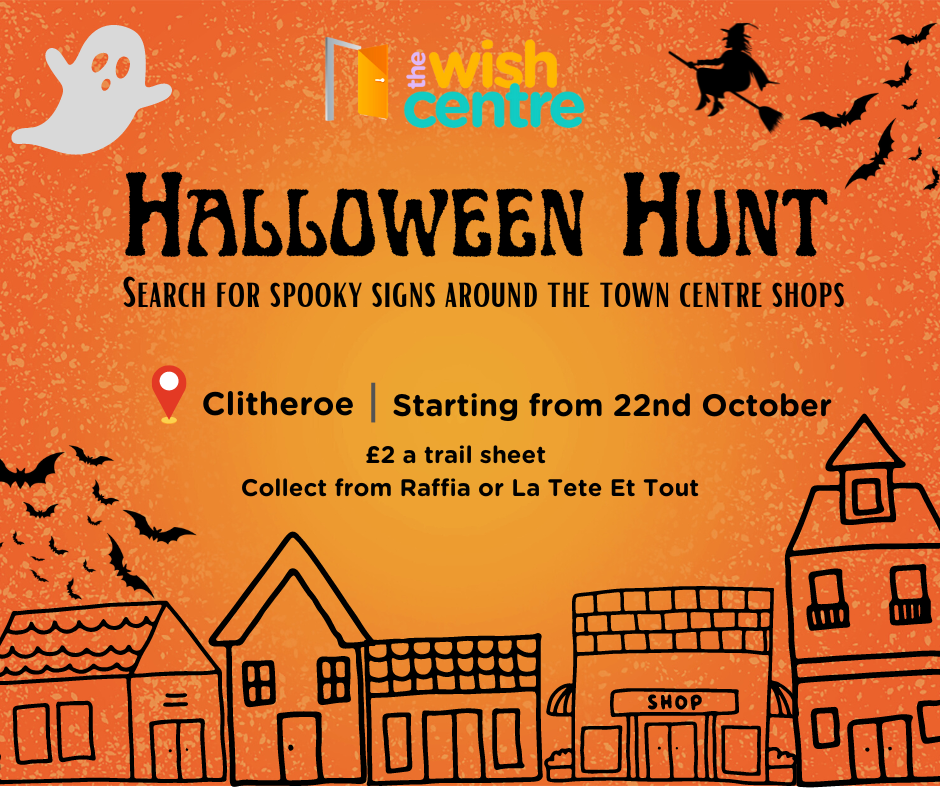 The Wish Centre supports people who have suffered or who are at risk of suffering domestic abuse, through the provision of support, advice and accommodation. We will work with victims and their families to secure the safety of those affected by domestic abuse and support their development so that each individual is helped to grow and fulfil their potential into the future.
"I feel special coming to The Wish Centre because it is a place where they help you" K aged 10

We have been established for over 30 years and are the commissioned service provider by Blackburn with Darwen Council for our victim work and the commissioned service for Lancashire County Council and Blackpool Council for our children & young people work and our perpetrator programme.
One in seven (14.2%) children under the age of 18 will have lived with domestic violence at some point in their childhood. The devastating impact of abuse can have lasting affects into adulthood. The Wish Centre focusses on teaching young people what healthy and unhealthy relationships look like, supporting those affected by abuse but also initiating early intervention for those who are starting to display violent behaviours. Money raised from this fundraiser will go directly towards our children's services.
We offer a range of programmes for children and young people aged 5 to 19 years.
RYPP - Respect Young Peoples Programme
The RYPP is a programme for families where children or young people aged between 10 and 16 are abusive or violent towards the people close to them, particularly their parents or carers. This abuse may be physical, verbal, financial, coercive or emotional and may include behaviour like hitting, making threats or causing damage in the home.


Expect Respect
Expect Respect is an 8 week programme aimed at empowering Young People to Expect Respect in their Relationships. Suitable for people aged 11-18, helping them to identify healthy and unhealthy relationships.


Young People's Recovery Toolkit
Young People's Recovery Toolkit (YPRT) is an 8 week course for children 11-16 yrs, who have witnessed or experienced domestic abuse. The overall aims of the course are to help children and young people come to terms with their experiences and to develop positive lifestyle and coping strategies.
Helping Hands
Helping Hands is a 8 week fun packed programme for children 6-11 yrs. It addresses the challenging issues of personal space, awareness of acceptable and unacceptable behaviours, and safety planning.
Parachute
Parachute is a 10 week programme for 14-19 year olds who have been identified as needing help in managing conflict in their relationships. Parachute is aimed at young people who may already have a history of resorting to violence to try and solve conflict.